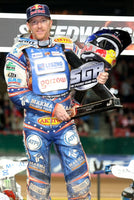 Jason Crump AM
Jason Crump retired from World Championship racing in 2012 & still to this day holds many records including the feat of finishing 10 consecutive years in the Top 3 in the World.
He retired at the age of just 34 & is considered one the greats of the Sport.
Jason holds Ambassador roles with Red Bull & ATPI. And he continues to work in sporting events advisory roles as well as personally mentoring & coaching young racers internationally.
See Bio